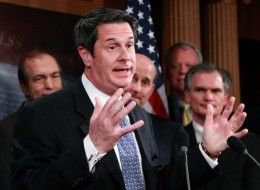 Louisiana's Own Sen. David Vitter
Uh-Oh, looks like the Republicans have found themselves in another pickle involving an esteemed colleague acting like a total jackass in a (very public) U.S. airport.

Fortunately, this little incident doesn't include the words "soliciting gay sex" and "men's bathroom," thanks to Louisiana Sen. David Vitter whose recent airport temper tantrum was more of the arrogant a**hole than closeted gay Republican senator variety.
Sen. Vitter's latest run-in since getting busted with hookers in the "DC madam" escort service scandal in 2007, came last Thursday after missing a flight from Washington to New Orleans.
After being told that the door had been closed twenty minutes prior to departure, Vitter proceeded to do what any normal person would do in the situation, which is attempt to open the the armed security door anyway, set off the alarm, and scream "do-you-know-who-I-am" to anyone wearing wings on their lapel.
The airline worker then told Vitter he was summoning security who would perhaps be more impressed by his senatorial pin than the other airline employees.
But Vitter must have been in quite a rush, because by the time the agent returned with a security guard, the senator was long gone.
He had a lot to do, like issue a statement about how he worked so hard "on the Senate floor ensuring a vote on my anti-pay-raise amendment and was in such a rush to make my flight home for town hall meetings the next day, I accidentally went through a wrong door at the gate."
He then accidentally scrammed the hell out of the airport just like any other rational, clear-thinking senator with nothing to hide.