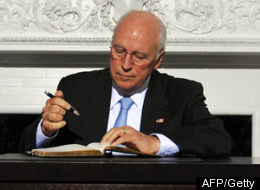 Just in case you haven't had enough Dick (Cheney, that is) lately, you'll be happy to know the former Bush VP has decided to grace the world with his first memoir to be published in Spring 2011, just a few months after Dubya's highly anticipated novel debuts. OMG, 2011 is gonna be awesome!
Now, normally Dick is not one to bask in the spotlight or, for that matter, any light since his primary place of residence is a dank hole 300 feet below the surface of the Earth.
But the more he thought about it, the more the 68-year-old Cheney realized he had a lot to say about his 40 or so years of government service, dating all the way back to the hippie-drenched era of the 1960s. ***Shudder***
His as-of-now still untitled book will cover his loooooong career destroying society, from chief of staff under President Gerald Ford to vice president under George W. Bush to his present-day job as the nation's foremost Prophet of Doom. In between his four heart attacks and numerous surgeries, Cheney still managed to dedicate his life to serving his country–be it torturing enemies, bombing oil-rich countries worth huge rebuilding contracts, watching the Twin Towers burn, New Orleans drown, or just shooting friends. A real American hero, that Dick!

Plus, he wants to set the record straight that he is not in fact Darth Vader or worse, some lab project in Victor Frankenstein's basement.

"I'm persuaded there are a lot of interesting stories that ought to be told," Cheney said. "I want my grandkids, 20 or 30 years from now, to be able to read it and understand what I did, and why I did it."
That way they'll be able to smile proudly and say with confidence, "That's my granddaddy who ruined America!"