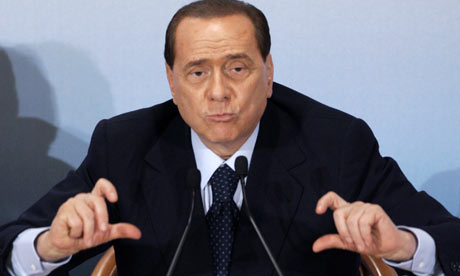 Infamous lady killer and Italian prime minister Silvio Berlusconi took a break from his busy schedule of humping meter maids and hosting wild sex parties with young supermodels to defend himself against yet another excruciatingly embarrassing sex scandal–a leaked audio recording of him sweet talking a prostitute right after he finished having his way with her.
The recordings were secretly made by blonde high class call girl Patrizia D'Addario, 42, after she spent two nights at Berlusconi's official residence and unofficial underage sex palace in Rome, Palazzo Grazioli.
While Berlusconi admits he is "no saint," the prime minister denied claims that he'd slept with D'Addario, saying he does not understand how "people could pay for sex without the thrill of the conquest." Of course he doesn't!
The recordings, which were made on D'Addario's mobile telephone, begins with the woman who he did not have sex with telling the prime minister that a young man "would have already come in a second."
After a voice which sounds uncannily like Berlusconi's says "the problem, in my opinion, is a family one", D'Addario asks: "You know how long it is since I had sex the way I had it with you tonight?" She then proceeds to answer her own question, saying, "Months. Not since I left my man. Is [that] normal?"
His reply? "If I may, you ought to have sex by yourself. You ought to touch yourself with a certain frequency."
Always the gentleman that Silvio! With advice like that, he should really start his own Dear Abby column. How hard can it be when you already own half the media–and half the women–in all of Italy?