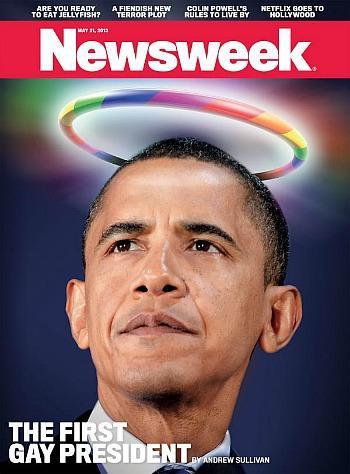 Increasingly irrelevant Sarah Palin's increasingly desperate grifter tour quest for attention included a quick stop at a Texas Chick-fil-A to "support a great business", munch on a deliciously diabetic, deep-fried chicken sandwich, and of course, to tell the terrible homosexuals "I hate you," without saying, "homosexuals, I hate you."
Ah yes, the perfect fast food for a perfectly slow-minded bigot too chicken to be upfront about their lightly veiled, grease-smeared hate, which after a few more helpings of Chick-fil-A, will likely soon be the only thing light about them.
So while Sarah Palin, Mike Huckabee, and Rick "Secret Sauce" Santorum 'Eat Mor Chikin' to ensure that Jesus doesn't get any angrier about the  proper penis-to-vagina ratios in marriage, the terrible, no-good, LGBT-loving Democrats went ahead and destroyed the sanctity of "traditional families" and their blessed boy-girl unions by adding marriage equality to their Party platform.
Take that, straight America!
Retiring gay Rep. Barney Frank (D-Mass.), who sits on the committee, told the Washington Blade on Monday that the 15-member panel unanimously backed the inclusion of a marriage equality plank after a national hearing over the weekend in Minneapolis, in which several witnesses testified in favor of such language.

"I was part of a unanimous decision to include it," Frank said. "There was a unanimous decision in the drafting committee to include it in the platform, which I supported, but everybody was for it."

Frank emphasized that support for marriage equality is a position that has been established for the Democratic Party, from the president, who endorsed marriage equality in May, to House Democratic lawmakers who voted to reject an amendment reaffirming the Defense of Marriage Act earlier this month.

A Democratic National Committee staffer, who is familiar with the process and spoke on condition of anonymity, said the language in the platform approved on Sunday not only backs marriage equality, but also rejects DOMA and has positive language with regard to the Employment Non-Discrimination Act. The exact wording of the language wasn't immediately available.
Hopefully it's something everyone, including Rick, Mike, SarBear, and homophobic fans of plump, tender, all-white breasts everywhere, can get behind.
Like, say, "Eat Mor Cok."
Thumbs Up If You Hate Homos!
[image via Newsweek]