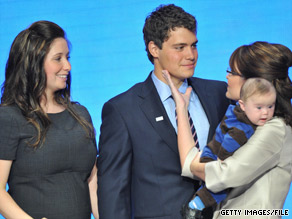 America's favorite spurned, tell-all baby daddy and almost X-rated Alaskan answer to Scott Brown, hunky heartthrob Levi "Almost Showed My" Johnston wants you to know all those mean, terrible, private things he said about the Palins, specifically sweet matriarch Sarah Palin, were actually mere figments of his wild, teenage imagination and he's deeply sorry for all the pain, trouble, anguish, anger, or ill effects he may have inadvertently caused the family. When he slipped and fell into every teevee interview and talk show around to say some juicy stuff about how Sarah is really a crazy, cold-hearted wench and so on and so forth.
Accidentally when he was still all sad and upset-like 'cause of his break-up with Bristol and the whole crazy Tripp thing (like fatherhood, weird!) and said some, umm, things he shouldn't have said.
Especially if he knew he was gonna get back together with Bristol and the gang!
"Last year, after Bristol and I broke up, I was unhappy and a little angry. Unfortunately, against my better judgment, I publicly said things about the Palins that were not completely true," he said. "I have already privately apologized to Todd and Sarah. Since my statements were public, I owe it to the Palins to publicly apologize."
What those things were exactly, he wouldn't say, but whatever the lies were, he is certainly the sorriest young high school hockey star and famousest father in all of Alaska! Besides, he needs to stay mum in case he ever needs leverage for future baby-momma drama (although we're certain they'll live happily ever after!).
He would never ever do a thing like that again, or at least until the next time he is shamefully cast off by the Sopalins for being a slutty man whore with a big mouth who gossips like some high school heartthrob after breaking up with his girlfriend because of her psycho mother.
His hot, sexy, amateur actress girlfriend whose star-making performance playing the non-gifted, white trash version of brilliant cellist Yo-Yo Ma means she can finally give the whole abstinence crusade thing a rest and get back to doing what she does best: screwing the bejesus out of beau Levi, whenever Mama's off on a hunt or hoarding cash in the Lower 48 for freedom!
Bristol, who has finally gotten the hang of how the whole Palin family ghostwritten public statement thing works, added her "own" professionally crafted response, saying: "Part of co-parenting is creating healthy and honest relationships between the parents. Tripp one day needs to know the truth and needs to know that even if a mistake is made the honorable thing to do is to own up to it."
Got it Johnston?
Okay, okay, sorry Tripp for getting drunk, not wrapping up the goods, and nine months later having a special, li'l miracle of God I never really wanted but lost the receipt so can't return, ugh. A total bummer but Bristol says he's real cute 'n stuff, and I can teach him to play hockey and hunt and how to ding dong ditch with flaming bags of moose dung, so we'll see. Who knows, maybe it won't be too bad after all!
And now that Mama's off Facebookin' for freedom 'cross America, Bristol and Levi are free to be the two made-for-each-other love birds, and underage sex machines everyone knows they should be.
"Bristol and Levi are still very close," a source close to Bristol, 19, tells Us. The eldest daughter to former Alaskan Gov. Sarah Palin claimed in the June issue of Harper's Bazaar that ex Johnston, 20, was "a stranger to me."
But the source reveals, "Now that Mama Palin is out of the picture and Bristol is on her own in Anchorage, they spend more time together than most people think."
Oooooh, does that mean they're doing DOING IT????
Because we all know what happened the last time Mama Bear was too busy ruining running Alaska to monitor her eldest daughter's sexual behavior.
But wait, maybe the pair is just trying to spend more time together with li'l Tripp?
Adds the source: "Levi even stays overnight. I even think they are back together."
Like making steamy, unprotected sexytime back together?
"So to the Palin family in general and to Sarah Palin in particular, please accept my regrets and forgive my youthful indiscretion," Johnston said. "I hope one day to restore your trust."
So I can return to my rightful place inside your daughter, continue reproducing tons o' li'l Tripps and Triggers, and restore my suddenly cold-as-Wasilla sex life back to its mainland warmth.
Which means the whole world can breathe a collective sigh of relief knowing it's favoritest pair are back on (top of each other?) and can reclaim their well-deserved title as America's #1 Sweethearts, now that Al and Tipper have so cruelly tossed their title in the gutter, and crushed our belief in love and God.
Yay!
But wait! Not so fast, says Levi's sister Mercede, who took to her awesome new blog to hit back at the Levi Johnston faux apology tour to get back into Sarah's good graces and Bristol's designer pants.
"After about four hours of fun out on a four-wheeler I finally stopped someplace where there was a clear signal and checked my I-phone. I found that I had received a number of messages, but there was one which caught my attention, immediately made my heart beat faster, and brought a tear to my eye."

"The message was from my mother saying that Levi, who has not spoken to us since he rekindled his relationship with Bristol (although we had attempted repeatedly to call or text him), left a message saying that if I did not take my blog down by Wednesday that I would never get to see him, or Tripp, again."

"I could not believe it! I thought to myself if he was really willing to make such a threat that he would at least have the decency to call me and talk about it first. I mentioned on my blog repeatedly that my intention was not to hurt or attack the Palins, but to speak out and tell the public my side of the story. As well as how badly my life, and the lives of our family members, had been impacted by our association with the Palins."

"It had my mind spinning. How could my brother threaten me like this?"
Oh no! Levi has forgotten who his real non-rich and famous celebrity family is! Now, he will never return to his familial frozen meth lab roots in Wasilla! How can you do this, Levi?
I wish Levi could be the man I know he is and have a mind of his own and finally stand his ground, but I guess he is blinded by love. I just wish he would take a step back and look at the bigger picture.
Like how Bristol and Levi are totally back together, true love conquers all, or at least whatever couldn't be accomplished by drilling, baby drilling Levi's fragile, hunky brain with evil Palin Family brainwashing.
Unlike every other idiot teenage couple who got knocked up in America, Bristol and Levi have publicists who talk to the national media when their romantic status changes. Which means, we won't have to rely on the poor man's journylism of Mercede Johnston's blog, the savvy investigatory prowess and unparalleled determination of Us Weekly, or the power of our Lord & Savior Jesus Christ to keep us informed of this very special moment in American history.
And maybe, just maybe, if every last man, woman, and child (special needs and otherwise) in America tries their very hardest (and prays every night) to break the evil Sarah spell, Levi Johnston will one day be able to break free from the strings of Palin puppethood (or is it parenthood?), and once again be a real live boy, err make that, real, live Playboy centerfold.